BACK TO HOME
Contractor Prequalification Services
72-hour Prequalification Turnaround

When hiring clients require prequalification approval to access a job site, it can be a struggle to navigate the process quickly. Our experts navigate 30+ contractor prequalification platforms like ISNetworld©, Avetta©, and Veriforce© every day. You answer some questions about your company and we save you time, money and headaches by preparing the prequalification for you at a fraction of the cost and ready to submit for approval in 72 hours.

Contractor Management System

We make safety prequalification for contractors easy and simple. Our turnkey solution gives you everything you need in terms of contractor training materials and resources, so you don't have to worry about developing your own paper.

Even if you have unique requirements for a specific job, we will work closely with you to create a customized solution. Our focus is ensuring that every one of your employees comes home safely at the end of the day. We include everything required to show that you are qualified in your entry within our contractor management database, so you can demonstrate your compliance easily.

Working with us to obtain safety prequalification for contractors is a simple process. Just fill out the contact form found here on our website. Once you do, you'll be put in touch with one of our experienced prequalification advisors. Our experts will partner with you to outline the basics of what you need.

From there, you can send us the required insurance and safety documentation. As soon as we have all the information, we get right to work helping you obtain the qualifications you need to work on even large-scale projects for major companies.
You Can Save $20,000 Over 650 Hours
Getting contractor prequalification approval is half the battle. Keeping it means continued business. With frequent prequalification maintenance and regular check-ins, you save time, money, and the frustration of adding another task to your to do list. You get a full-time prequalification partner at a part-time cost.

Full Compliance at Part-time Cost:
Don't burden your team with administrative work. Your goal is safety prequalification approval and maintenance. Let your dedicated Safety Compliance Manager take on platform navigation to get your account submitted quickly and maintained properly.

No Lost Opportunity Cost:
We spend every day in contractor management systems so you don't have to. Don't get sidelined with a lengthy questionnaire when your business needs your focus.

Create a Competitive Advantage:
Be the hiring client's preferred partner. We'll get you the highest compliance grade possible, then maintain the status. We won't let anything slip through the cracks.
Our Passion for Prequalification Services
$49,250 Value. You Pay a Fraction.
Total Value of Prequalification Service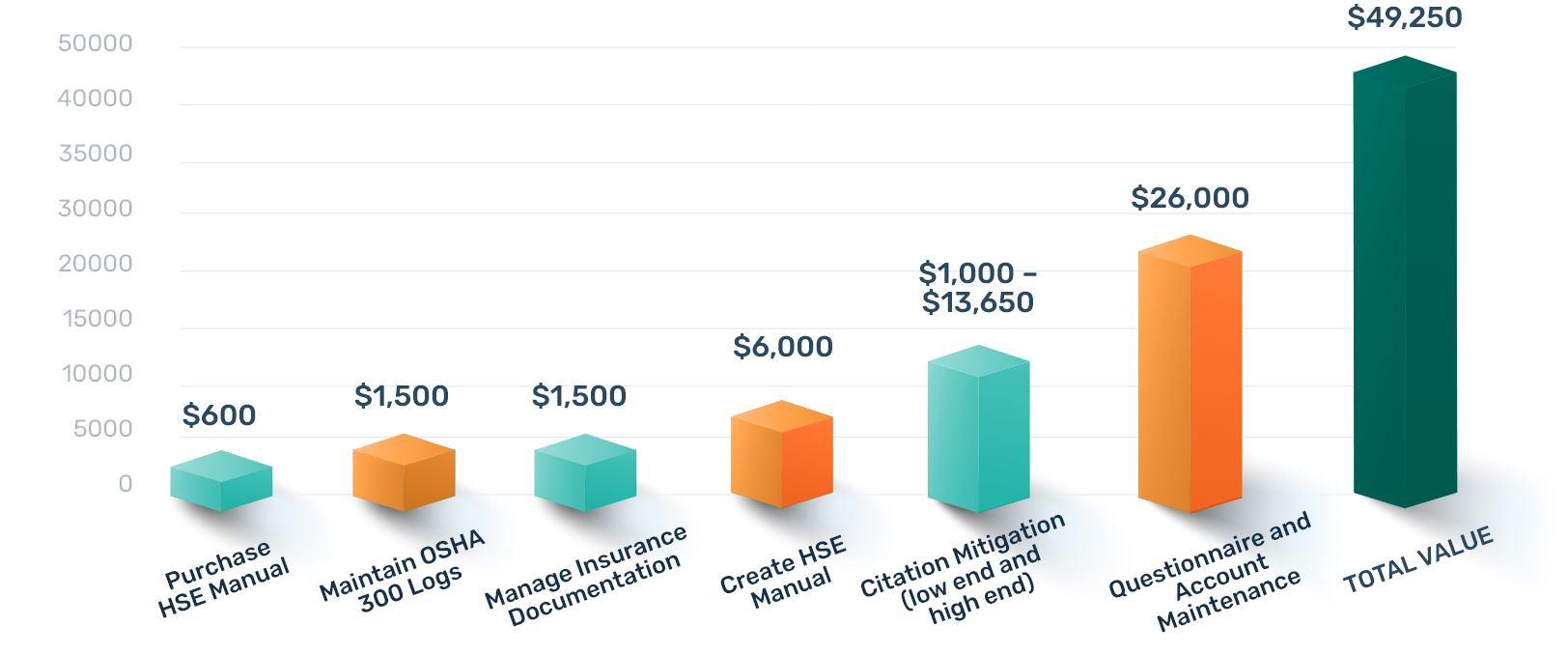 You get all of this bundled into one low price. And the time saved is equal to one full time employee. Ultimately… what is it worth to your company to be approved and get on the job site? Get in touch with us today to get all the answers to your safety and compliance questions regarding the prequalification of contractors.
An Annual Prequalification Subscription Includes

DEDICATED SAFETY AND COMPLIANCE MANAGER

HSE MANUAL

COMPLETED QUESTIONNAIRE

QUARTERLY REVIEW OF PREQUALIFICATION NEEDS

REGULAR ACCOUNT MAINTENANCE

MANAGE INSURANCE DOCUMENTATION

MAINTAIN OSHA LOGS

IDENTIFY SPECIALIZED POLICIES
20
Hours per Week Saved
9
Client Qualifications Met

Working with Safety Services saves me a ton of money and time. We don't have a dedicated safety professional, but our safety program needs to be top notch for us to be successful. I feel very secure with them as a partner… a peace of mind that the job is going to get done.
Vickie Pace
Technicoatings Scaffolding; Insulation