Common Sense Workplace Safety
Author

Stephanie McCauley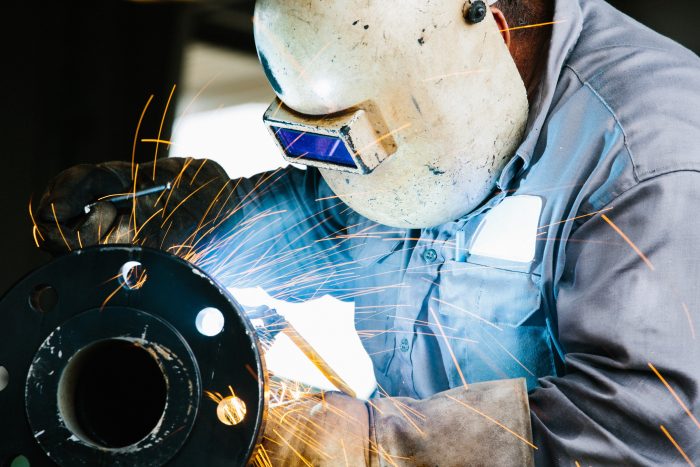 Workplace Safety
Welcome to Safe Friday, this week we're going to cover workplace safety. Freedom from danger is a wonderful concept, but to make that goal a reality requires considerable planning, training, commitment, management skills, and above all THINKING about workplace safety. Thinking through and applying safety and health programs is an effective method of identifying and correcting workplace safety and health hazards.
Thinking About Workplace Safety
When thinking about safety you should consider:
Are you using the appropriate personal protective equipment for the job?
Have the potential hazards in the workplace been identified?
Is there a plan in place on how to avoid injury, and are there first aid procedures in case of injury
Are you educated, trained and experienced to perform your job safely?
Are others trained and experienced to handle or use chemicals or other harmful substances in a safe manner?
Is there an emergency action plan in place, and is everyone familiar with proper emergency procedures?
Make sure you know the regulations that apply to your work environment and how to comply with them
Workplace Safety & Health Plans
Should cover the following areas:
Workplace safety policies and procedures
Understanding hazards and how to recognize and control them
Specific training required for the job
Emergency Action plan in case of an emergency
Protective measures to prevent or minimize exposure to hazards
A fall protection program (if appropriate)
Accident and incident investigation plan
A hazard communication program for any materials present
Personal protective equipment training
A lockout/tagout program
Equipment and power tool guarding policy
Fire prevention techniques and procedure
Personal protective equipment requirements and training
Workplace violence and sexual harassment
Regarding Equipment & Machinery
Are only qualified employees allowed to operate equipment and machinery?
Is the use of any machine, tool, material, or equipment that's damaged or defective prohibited?
Are machines, tools, material, or equipment that's identified as unsafe by locking and tagging, or physically removed from the jobsite?
Are only authorized, competent employees permitted to perform repairs?
Hazard Evaluations
Successful workplace safety programs must provide frequent and regular inspections of the materials, operating procedures, PPE, job-site conditions, emergency procedures, safe work practices, hazard communication program (including SDS sheets), and equipment.
To reduce job-related fatalities, injuries, and illnesses, take a proactive approach to safety, and think about how to work safely. Having an effective workplace safety and health program will ensure you're OSHA compliant and show your commitment to safety.
Workplace Safety Training & Documentation
Federal law requires that you receive training in the safe methods of doing your job. You need to know about workplace the hazards that are present, how to recognize them and how to control your exposure. Being aware of potential hazards, as well as knowing how to control them, is critical to maintaining a safe and healthful work environment and preventing injuries. The best way to gain this knowledge is through education and training.
Education and Training
Education teaches us why safe practices and procedures are important; education affects attitudes about safety, and attitudes affect behavior
Training, on the other hand, provides the skills necessary for working safely. You need to know; the safety and health rules, how to identify any worksite hazards, safe work procedures and what to do in an emergency. New employee orientations, periodic safety and health training, and emergency drills will build this knowledge
Our written safety training program enforces the educational aspects of training and demonstrates our commitment to safety
Written training material will also help to better comprehend and retain training concepts
Benefits of Training
Makes you aware of job hazards
Teaches you to perform jobs safely
Promotes two-way communication
Encourages safety suggestions
Creates interest in the safety program
Fulfills OSHA requirements
Here are four examples that demonstrate you have been educated and trained about the importance of workplace safety and health:
You know what workplace hazards could harm you
You know how to control or eliminate your exposure to workplace hazards
You know and understand OSHA regulations pertinent to the job you are doing
You, your supervisors, and your managers understand all safety and health responsibilities
The Benefits of Documentation
Experienced workers know that putting things in writing has benefits far more valuable than just avoiding an OSHA citation. Putting things in writing has value in legal proceedings, in employment matters, in dealings with other government agencies, and recording the progress toward achieving a safe, healthful workplace.
The Quality of Training
May become an issue in legal cases where a defense of unpreventable employee misconduct is raised. Under case law, the company may successfully defend themselves against an otherwise valid citation, by showing that all feasible steps were taken to avoid the occurrence of the hazard, and that actions of the employee involved in the violation, "were a departure from a uniformly and effectively enforced work rule that the employee had been trained on. Documenting workplace safety training (putting it in writing) may be the company's only proof of compliance with OSHA requirements, or that you were trained in the area in contention.
Supervisors and managers also need education and training to help them in their leadership roles, and to enhance their skills in identifying and controlling hazards.
Taking Workplace Safety Seriously
Every year thousands of workers are hurt or killed because of accidents. For the most part these accidents were caused by unsafe acts, whether intentional or done without thinking. Each of these workers can provide valuable insight and information on the safety training that's needed to avoid future accidents. Today we'll continue to discuss how to get everyone thinking and acting safely.
The Facts
The U.S. Department of Labor estimates that around 85% of workplace injuries are avoidable
Many accidents are caused by equipment that wasn't been properly maintained or inspected before use
Safety and health training should be provided before problems or accidents occur
Problems that can be addressed effectively by training include:
Those that come from a lack of knowledge of a work process
Unfamiliarity with equipment
Unsafe practices
Additional training or retraining should occur when:
Employees are assigned new job responsibilities
New equipment is introduced to the workplace
There are additions of hazardous chemicals
Hazardous conditions on the job change
Any near-miss incidents or accidents occur on the job
Safety is an Attitude
Most accidents happen because of an improper attitude. Since our attitudes determine our actions, everyone needs to have the proper attitude towards safety. No one wants to get hurt, or see their co-worker injured, so it makes sense to work with a positive attitude toward safety. A positive attitude toward safety is contagious; however, equally contagious is a negative attitude. Joking about safety or disregarding safety rules is not only against company policy, it also shows a lack of regard for you and your fellow co-workers health.
Remember that accidents can cause pain, significant loss of income, disability and even death
Effective working is a team effort, we are all responsible for the safety of each other and making a safer work area
Always monitor your surroundings, pay attention to your co-workers and set a positive example
Handling Equipment & Tools
Any tool or piece of equipment can become defective. A defective tool or piece of equipment can result in unsafe work practices. It's important to note that time and use will eventually render every tool and all equipment defective; therefore, performing maintenance and inspection is essential for the safekeeping and long life of the tool and equipment. A defect free tool or piece of equipment means a safer workplace.
Tips for Safe Tool Handling
Always put tools or equipment away in their proper place to avoid slip, trip and fall hazards
Don't pull electrical cords unplugged from a distance or carry tools/equipment by the cord as that can cause damage
Don't remove any safety guards or make unapproved modification to tools and equipment
Always wear proper PPE when working
Never operate tools or equipment without proper training
Remember to ask if you don't know or are unsure of the right and safe way to do your job. If a co-worker is trying to help you, it's because they care about your safety and health. Attitudes are very contagious, so if you are consciously thinking about safety, there's a good chance that your co-worker will do the same.
Common-Sense Workplace Safety
Introduction: Safety is often nothing more than common sense. It's generally accepted that at least 85% of all accidents are preventable. Taking responsibility for your work habits and recognizing that an accident is most likely preventable is the first step to a safer workplace.
Common-Sense Guidelines for Workplace Safety
Be alert. most accidents occur because you or someone around you isn't "paying attention" to what they're doing
Watch out for the other guy, pay attention to what your co-workers are doing around you. Make sure that people aren't acting irresponsibly or putting you or themselves in a potentially dangerous situation
Dress for safety. Don't wear loose fitting clothes. Tie back or cover long hair. Make sure your shoes are tied
Wear all appropriate PPE. Never take short cuts and always take the time to wear your safety glasses, hard hats, work boots, safety gloves and fall protection, no matter how inconvenient it may seem at the time
Read and follow the manufacturer's label directions or SDS on safe use, handling, and storage of chemicals, pesticides, or cleaning supplies
Don't operate any equipment that you haven't been trained on
Constantly inspect your work area for hazards
Use good housekeeping practices, keep your area clean and hazard free
Keep aisle-ways, walkways and stairways clear, and never obstruct exits. Watch for and correct, any trip hazards, spills or leaks to prevent slips and falls
Always use proper lifting techniques. Don't attempt to lift or move objects that are too heavy to safely lift alone or without the aid of equipment
Take safety seriously. Get involved with your safety program. Identify workplace hazards to your supervisor and provide feedback and input during the safety meetings
Inspect all your tools and equipment for defects such as missing or inoperable machine guards. Don't operate unsafe tools or equipment
Clean up your work at the end of the day or as needed. Lock up equipment and secure your work area. Label and guard all hazards
Brush up on your first aid skills and frequently inspect the supplies in your first aid kit
Ask questions. If you're not sure how to do something, or simply need assistance, ask questions
Ask for help. Never be afraid to ask your supervisor or fellow employees for assistance
"If I'm the one who has an accident, I'm the one who's going to suffer the pain and the potential loss of income."
Common sense safety is often simply thinking before doing. What could happen if I do it this way? Is the way I'm planning to do this safe? Following common sense safety guidelines and working responsibly is everyone's job.
➩We have complete OSHA compliant safety solutions for all your needs. Call (877) 640-6571 today to speak with one of our highly skilled safety experts.
Please join us next Friday for more safety and compliance tips!
Next Post: Practical Confined Space Training
Previous Post: 4 Practical Avetta FAQs for Suppliers