back to all blog articles
Construction Safety Meetings: 7 Key Topics You Need to Address
Best Practices
Safety Culture
Safety Training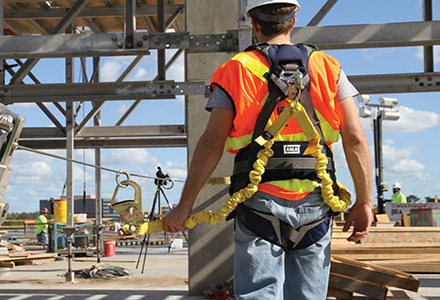 Toolbox talks. Tailgate meetings. No matter what you call them — safety meetings can be an effective way to quickly incorporate safety into your day-to-day operation without interfering with production.
But how do you know what to cover in these trainings?
We've put together a list of the top 7 construction safety meeting topics you should be addressing regularly. Each of these topics is highly relevant to the construction industry. They were chosen based on the number of accidents and injuries that occur each year at construction workplaces. They are also useful topics for all types of construction employees, regardless of trade or specific skill set.
The Importance of Safety Meetings
Holding regular safety meetings helps reinforce important safety principles for your construction jobsite. It can also help ensure compliance with the requirements to provide workplace training.
In fact, the Occupational Safety and Health Administration (OSHA) recommends that employers regularly enforce standards and regulations.
"The employer shall instruct each employee in the recognition and avoidance of unsafe conditions and the regulations applicable to his work environment to control or eliminate any hazards or other exposure to illness of injury."


— OSHA Standard 1926.21 (b)(2)
The first few topics on our list for construction safety meetings include the Focus Four Hazards.
These hazards, identified by OSHA, are responsible for approximately 65% of all fatalities on a construction jobsite. Therefore, they are perfect topic ideas for construction meetings.
The rest of the topics on this list are also important to include on your regular safety meeting schedule. They are highly relevant to the construction industry.
Providing training on each of these construction safety meeting topics can help reduce the number accidents and injuries at your jobsite. Let's take a closer look.
1. Preventing Struck-By Injuries
According to the National Institute of Occupational Safety and Health (NIOSH), struck-by hazards are the leading cause of nonfatal injuries on a construction site. They are the second most common cause of fatalities.
As one of the Focus Four hazards, OSHA encourages employers to train and educate workers on how to recognize these types of hazards and prevent injuries.
A toolbox talk, or safety meeting, on preventing struck-by injuries is a great way to ensure employee safety and reduce the risk of struck-by incidents from occurring at your workplace.
Struck-By hazards can be categorized as one of the following specific types of hazards:
Flying objects
Falling objects
Swinging objects
Rolling objects
Your safety meeting should provide an overview of each of these types of hazards, specific examples relevant to your jobsite, and a list of tips and best practices for preventing them.
Additionally, workers should be reminded to only operate equipment they've been trained to use, wear the appropriate personal protective equipment (PPE), and understand how to safely secure all loads and materials.
>> Related safety meeting topic ideas: Focus Four Hazards, Jobsite PPE, Securing Loads
2. Fall Hazards in Construction
Falls are another one of the OSHA Focus Four hazards. This one in particular is an important safety topic for the construction industry, since falls are the leading cause of death at a construction worksite.
OSHA estimates that an average of 30% – 40% of all construction fatalities can be attributed to falls every year.
Your safety meeting on fall hazards should include an overview of the various types of falls.
For instance, fall incidents are either classified as "falls on the same level" or "falls to a lower level." Workers should be trained to recognize both types of fall hazards and how to prevent them.
Also be sure to discuss the common causes of construction site falls.
Working from a rooftop, ladder, unprotected edge, scaffolding, or near floor openings can all result in fall-related injuries or fatalities. Frequent and proper training can go a long way in preventing fall hazards in the construction industry.
>> Related safety meeting topic ideas: Focus Four Hazards, Fall Protection, Ladder Safety
3. Caught-In or Caught-Between Hazards
Injuries from caught-in or caught-between hazards are the result of being squeezed, crushed, pinched, or compressed between two or more objects. This category of the Focus Four hazards accounts for 7% – 10% of construction fatalities annually.
Examples of caught-between hazards include getting your hand pinched in the moving parts of an unguarded piece of machinery, getting buried by a trench collapse, or being pinned against a wall by a piece of mobile equipment.
When holding a safety meeting on this topic, be sure to train workers on how to recognize and prevent the various types of caught-in or caught-between hazards that can be found on your jobsite.
>> Related safety meeting topic ideas: Machine Guarding, Trench Safety, Working Safely Around Mobile Equipment
4. Electrocution Hazards in Construction
Although the number of electrocution fatalities on construction sites have decreased in recent years, it still is included as one of OSHA's Focus Four hazards.
That's because according to the National Fire Protection Agency and the U.S. Bureau of Labor Statistics, approximately 75% of workplace electrocution fatalities occur in the construction industry.
Hosting a toolbox talk or safety meeting on electrocution hazards should be done at least annually for all construction workers.
Workers should understand the hazards of overhead power lines, damaged or exposed cords and wires, and the consequences of making contact with live electrical equipment. Workers should also receive extensive training on proper lockout / tagout procedures.
>> Related safety meeting topic ideas: Electrical Hazards, Extension Cords, Lockout Tagout
5. Preventing Slips, Trips, and Falls
The next construction safety meeting idea on our list is preventing slips, trips, and falls. These incidents often result in back injuries, twisted ankles, and other types of sprains or strains.
Slips, trips, and falls most commonly occur when employees are either distracted, walking through areas of poor housekeeping, or when traveling across areas with muddy or icy ground conditions.
When giving your safety talk, be sure to cover information on all walking and working surfaces, such as floors, staircases, and outdoor areas. Review the hazards and provide employees with tips and best practices for preventing slips, trips, and falls.
>> Related safety meeting topic ideas: Housekeeping, Stairways, Ice & Snow Hazards
6. PPE Requirements for Construction Sites
Construction workers know that they need to be wearing the proper PPE at all times. But unfortunately, it can sometimes be difficult to get them to comply with the PPE requirements.
Having a safety meeting on this topic can help reinforce the importance of wearing personal protective equipment on a construction jobsite.
Common forms of PPE for the construction industry include hard hats, safety glasses, safety shoes, hearing protection, and more.
Your toolbox talk should review these various forms of PPE, why they are important, and when they are required for your particular jobsite.
Employees should also be reminded that PPE is a "last resort" option after all other safety precautions have been implemented. It is often the only thing left standing between them and a potential injury.
>> Related safety meeting topic ideas: Eye and Face Protection, Protective Clothing, Hearing Protection
7. Material Handling Safety
Based on information from the Center for Construction Research and Training, roughly 25% of all construction-related injuries that occur each year are back injuries. Most of these injuries are the result of improper lifting, pulling, pushing, and carrying of objects and materials.
Having regular construction safety meetings on the topics of back safety, material handling, and ergonomics can help reduce the risk of injury for your employees.
Meetings should provide refresher training on proper lifting techniques, when and how to use mechanical lifting aids (such as carts and dollies), and when it may be necessary to use two or more employees to lift or carry heavy loads.
>> Related safety meeting topic ideas: Preventing Back Injuries, Ergonomics, Mechanical Lifting
Get Help with Training Material for Regular Safety Meetings
Looking to improve safety, reinforce training principles, and help meet compliance requirements at your workplace? Holding regular safety meetings is a proven strategy for achieving those goals – but consistently creating new meeting content is hard. That's where Safety Services Company can help…
We have an extensive library of safety meeting topics and simple subscriptions that ensure you're delivered fresh, high quality meeting materials either weekly, or bi-weekly. Choose from over 1000 topics to include in your toolbox talk schedule.
You can even customize the meetings with your company's name and logo to reinforce to employees your commitment to ongoing safety.
Call us today to speak with one of our safety advisors about how to best implement safety meetings at your workplace.