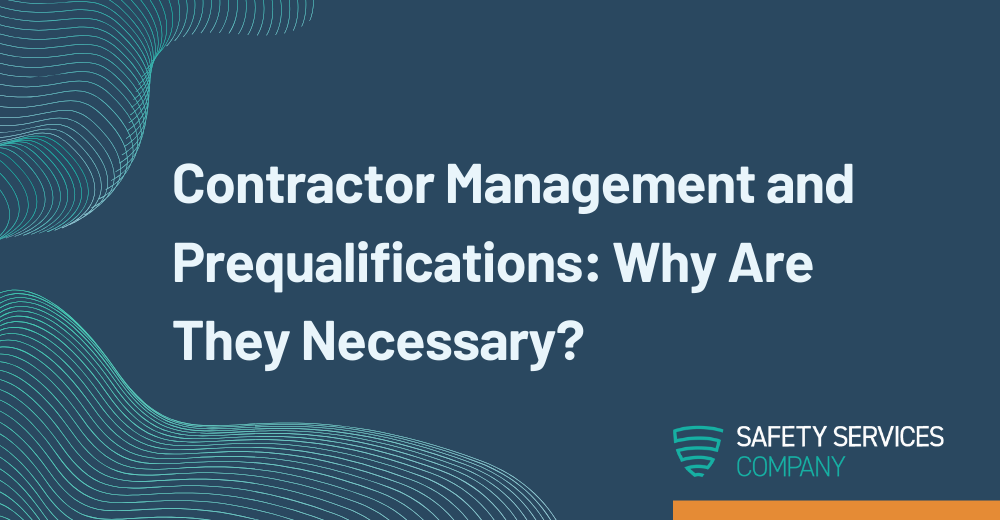 Finding reliable and compliant vendors can be a difficult task for hiring clients in today's markets. Businesses have to analyze and assess multiple suppliers to find the most compatible ones, and they often require their vendors to have certain licenses, qualifications, and certifications. For contractors, these come in the form of a process known as prequalification and contractor management.
Let's discuss these terms further and understand their necessity.
What is Contractor Management?
Contractor management is a series of checks ensuring that the contractors follow up-to-date safety practices and conform to health and regulatory standards. It ensures that the involved parties meet quality standards and maintain consistency and reliability of products and services.
The Importance of Prequalification and Contractor Management
Prequalification refers to the process of assessing and evaluating potential contractors or subcontractors before awarding them a project. Businesses strive to find safe, compliant, and high-performing contractors for a number of reasons:
1. Avoiding Legal Issues
Hiring clients hire a licensed contractor to save themselves from legal liabilities and low-quality work. Unlicensed contractors do not have the necessary documentation to prove their skills. So, suppose the business hires an unlicensed and non-compliant contractor. In that case, the responsibility of dealing with workplace accidents or unsafe job sites will fall upon them, causing legal issues.
For this reason, contractor management and prequalification are an essential part of contractor vetting: they protect hiring clients from liabilities and severe reputational damages.
2. Preventing Financial Losses
Hiring clients apply a significant amount of resources to their projects, so it is only fair that they ascertain the qualifications and safe practices of the contractors they hire.
Prequalification demonstrates that your company adheres to health and safety regulations, preventing potential lawsuits, poor work, and additional expenses for the client. Those who do not comply pose a high risk of impacting the hiring client's project. 
The Role of Prequalification in Ensuring Compliance
Contractors must familiarize themselves with the health and safety requirements to perform tasks on-site correctly and up to code. This requires them to take training and avail certifications that prove their skills and expertise in the required field, preventing lawsuits, additional expenses, or poor work.
Many contractor-compliance companies, like Safety Services Company, offer safety training courses and assistance so you can meet the requirements of the new project. Hiring contractor management services will help you address requirements across various industries.
1. *ISNetworld®
In 2020, roughly 738,281 contractor companies in the United States supplied various services. The numbers increase with time, making it difficult for hiring clients to choose the right project contractors. To qualify as the best option, you must undergo the *ISNetworld® prequalification process. 
*ISNetworld® offers a centralized platform for companies to manage their contractors and suppliers. This can help streamline the process of onboarding and maintaining relationships with various service providers.
The *ISNetworld® prequalification involves uploading documentation and answering 1,200 questions called an MSQ® or Management Systems Questionnaire®. You must upload 3 years of OSHA logs, Insurance (COI & EMR), and Safety programs (RAVS®).
If you fail to submit any of these, you will not be considered compliant which can prevent working with any hiring client.
So, when contractors pass this qualification, the hiring client can rest assured that they have been vetted thoroughly and are good to work on-site.
2. Veriforce®
Veriforce is a safety compliance program involving stringent prequalification requirements and established safety regulations for contractors and suppliers. It's widely recognized in construction, oil and gas, and manufacturing for its comprehensive approach, covering safety, operator qualification, training, and drug and alcohol monitoring.
Veriforce compliance means you become part of their compliant contractor network. Failing to meet their prequalification criteria will result in feedback and possible training to enhance safety and meet industry standards.
Once you're verified in the Veriforce system, hiring clients can look you up there, and if they find your profile, they'll be confident in your ability to provide services and work on-site. This will make the contractor vetting process swift, assuring companies of your capabilities.
3. Avetta®
Avetta is a platform that includes all the contractors and suppliers meeting health and safety standards. It has a contractor management system that helps hiring clients select suppliers, contractors, or vendors for their projects.
Some documents that you would need for Avetta compliance include: 
Certificate of insurance to verify the existence of insurance coverage,
HSE Programs (Health, Safety, and Environmental),
EMR letter (Experience Modification Rate) demonstrating the cost of your past injuries,
Estimation of risk related to the company you will work with, and lastly, OSHA forms (OSHA 300 logs) for the past 3 years if you are a US-based company.
This comprehensive prequalification can similarly assist hiring clients in their vendor vetting process, showing them that you are committed to health and safety regulations.
How We Can Help
Contractor Management Services can help you assure hiring clients that you have a strong safety culture, you will develop a solid footing to be chosen by hiring clients for their major projects.
However, we understand that meeting and maintaining the criteria can be a complex task for contractors who need to focus on being in the field. As industry-leading contractor management services, we can help! Contact us today and learn how we can manage your *ISN®, Avetta®, Veriforce®, and other contractor management platforms!