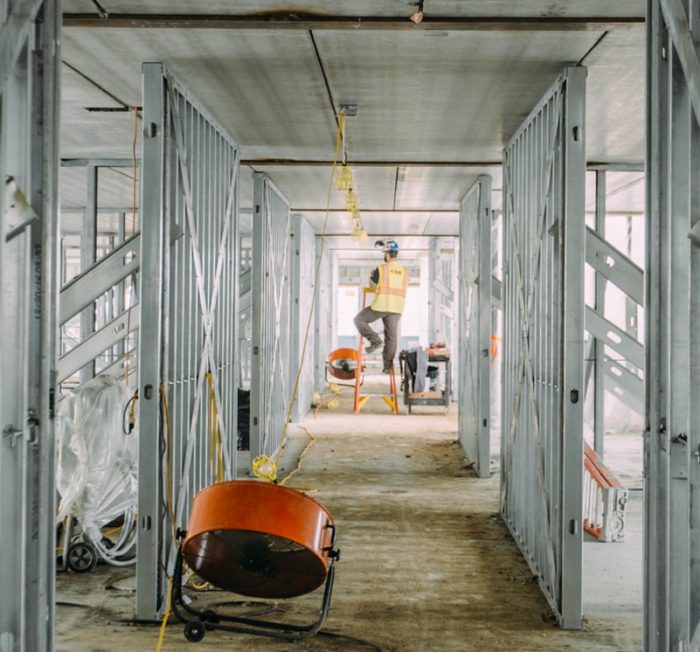 CLIMBING THE LADDER OF SUCCESS: WHAT YOU NEED TO KNOW ABOUT LADDER SAFETY
December is here, with the holiday season fast approaching, it's time to prepare your home and deck it with decorations. From tinsel to Christmas lights, it is the best time to make your home party-worthy. However, hanging decorations, at home or at work, can pose plenty of serious risks and dangers. Using a ladder can be very dangerous, especially if you do not know how to use it properly and how to break a fall.
Whether you are gearing up for Christmas, training to be a craftsman or managing a construction firm, the Occupational Safety and Health Administration (OSHA) has laid out ladder safety guidelines to ensure your workers stay safe when using this tool.
SELECTING THE RIGHT LADDER
Regarding ladder safety, the first thing to consider is choosing the right ladder for your needs. For those who aren't in the construction industry, it might be surprising to learn that ladders are rated according to the weight that it can bear. Before buying a ladder or at least selecting one for use, you must check the rating and align it with the task that you need to accomplish.
Type IA:
The sturdiest of them all, Type IA ladders have a duty rating of 300 pounds. Out of all the types, this kind of ladder is designed for heavy-duty use.
Type I:
Likewise, Type I ladders are meant for heavier use. It can bear weights of up to 250 pounds.
Type II:
For medium-duty use, Type II ladders should be the right type for you. It can stand weights of up to 225 pounds.
Type III:
For lighter tasks, you are only required to use a Type III ladder. This kind of ladder has a duty rating of 200 pounds.
It's important to note that only Type IA and Type I ladders are designed to be used on construction sites. Moreover, these ratings can be found on the side of every ladder as prescribed by the American National Standards Institute (ANSI).
Aside from the weight restrictions, your height should also be taken into consideration. Typically, a worker would be comfortable working at shoulder level which is generally 5 feet off the ground. Calculate accordingly prior to purchasing or selecting a ladder.
SETTING UP THE LADDER
After choosing the right type, setting it up properly will ensure you remain safe while using the ladder. Per OSHA:
Set up the ladder on a flat surface. Should one of the tool's feet lie uneven, make sure to prop or lower that side down.
It is very dangerous to make a ladder reach further than it is designed to. Do not attempt to elongate it by setting the ladder on top of boxes or blocks.
If the surface you have placed the ladder on is slippery, attach stakes or boards on the feet of the ladder to ensure that it doesn't budge.
Do not use a ladder during high winds. This can be especially dangerous if your ladder is made of a light material like fiberglass.
Unless you have a spotter, never set up a ladder in front of a door.
Never use a ladder on snow or ice. If it is absolutely necessary, use stakes to ensure that the ladder is gripping the surface tightly.
If available, anti-slip safety shoes should be used whenever a ladder is to be used.
LADDER PRECAUTIONS
There are proper ladders for specific situations. For metal ladders, it is best not to use them when dealing with electrical wires.
If you are using a ladder in a busy area with a lot of foot traffic, it is important to put up signs to alert people that a ladder is in use. It's best to perform tasks in teams of two ore more, especially in a crowded area. Doing so would allow someone to hold the feet of the ladder down firmly onto the ground.
Don't get lazy. If you would like to move the ladder, do not jolt or swing it away from the supporting wall. It's best to get off the ladder and move it from the base.
Like with all industrial and construction tools, it's never a good idea to use a ladder when intoxicated.
Never leave tools or any other materials on the ladder's steps. Doing so would run the risk of injury and/or lawsuit.
Only allow one person to use a ladder at a time. Unless it is specifically designed for two people, it isn't safe and the ladder might buckle under the excess weight.
If working on a scaffold, do not use a ladder to reach higher surfaces. Instead, raise the scaffold altogether.
PROPER CARE AND STORAGE
Store ladders on racks. Racks provide ladders the support they need.
Wooden ladders are best kept indoors. However, if you do not have space in your storage for your wooden ladder, treating it with preservatives like linseed oil would prevent weathering. Also, don't paint a wooden ladder. Over time, the paint can crack and form ridges. These ridges can throw a user off-balance.
When in storage, ensure that you don't have anything on top of the steps of the ladder.
EMERGENCY GUIDELINES
No matter how prepared you are, injury accidents can happen, especially when working from heights. In such cases:
Approach the fallen person. Assess the situation and try to determine if they need professional medical attention. If they are unconscious or bleeding, call 911.
Do not rush to move them. If they are conscious, help them reposition themselves to ensure their airway is unobstructed.
If they are responsive, ask about what had happened. Tend to bleeding by applying pressure.
Do not leave them, especially if they are confused or unconscious. Wait for professional help.
Most accidents avoidable, especially when following the guidelines above. As employers, it's critical to to keep your safety programs and ladder training updated every year. These standards can prevent your workers from costly accidents and save your company from a lawsuit.
Thankfully, you don't have to go navigate OSHA's fall protection guidelines alone. To see how we can solve your company's ladder safety training and compliance needs, check out our products and services here or call us at (866) 329-5407 today. Remember, your one call can save lives and improve your company's ROI.