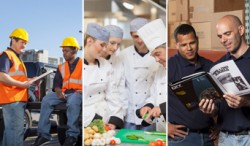 Stay Compliant, Keep Your Employees Safe, & Protect Your Business with Safety Training
Training requirements and specific needs differ for companies of varied industries, sizes, locations, and more. But, the delivery of ongoing safety training is one, common must-do for businesses of all types and sizes.
Meet the safety training requirements of OSHA and OHS effectively and affordably with customized and comprehensive compliance solutions from Safety Services Company. From weekly safety meetings to safety policy and procedure manuals to engaging interactive online training, you can achieve your safety program goals using safety training products specifically designed and customized to meet your company's needs, and ensure a safer workplace for you and your team.
Not sure of your safety training needs, or how best to meet your safety goals? Give us a call — we're here to help!