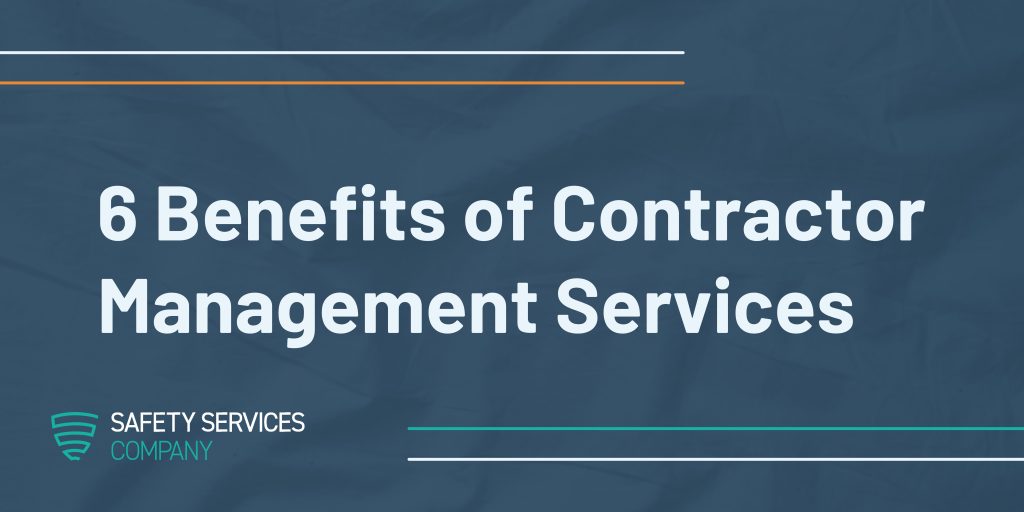 Navigating the world of ever changing contractor regulations and qualifications can be difficult. As a contractor, you're required to demonstrate your skills and prove your expertise through multiple means, like contractor compliance and job prequalification.
Hiring clients demand contractor compliance for cost savings and site safety. Staying compliant, including meeting internal standards, is crucial for legal requirements and stakeholder trust.
To simplify the process, you can utilize contractor management services. Let's dive into this option.
What are Contractor Management Services?
Contractor management service providers help contractors become prequalified for contracts and jobs. They maintain your contractor management accounts (e.g. ISN®, Avetta®, Veriforce®, etc.), complete the necessary paperwork, and provide you with training resources to help you with compliance.
Working with contractor management service providers, like Safety Services Company, benefits beyond mere regulatory adherence: they serve as strategic partners and contribute to a company's overall growth and success. 
The Case Behind Hiring Contractor Management Services
Here's why investing in a contractor management service provider can be a game-changer:
1. Mitigate Legal Risks and Encourage Adherence to Regulatory Requirements
You are required to track multiple things to maintain compliance and save yourself from any legal issues. Sometimes, companies miss contract obligations or compliance requirements such as OSHA, insurance policies, etc., leading to a breach of contract with the potential client. Here, contractor management services help you obtain proper certifications, helping you maintain compliance and giving you the ability to perform specific tasks and saving you from legal issues. 
2. Give You Training Materials On One Platform
Finding relevant training material to stay up to date with the latest regulations can be challenging. Contractor management services can come in handy because they offer many training materials and courses that you can access anytime.
You will have a step-by-step guide to what skills, techniques, and resources you have to familiarize yourself with in order to help with securing a good project and passing job prequalification. These demonstrate that you follow regulatory standards, which is crucial in passing any audits.
3. Avoid Costly Expenses
Contractors must familiarize themselves with the health and safety requirements to perform tasks on-site correctly and up to code. This requires them to take training and avail certifications that prove their skills and expertise in the required field, preventing lawsuits, additional expenses, or poor work.
Many contractor-compliance companies, like Safety Services Company, offer safety training courses and assistance so you can meet the requirements of the new project. Hiring contractor management services will help you address requirements across various industries.
4. Maintain Brand's Reputation
Your company's reputation is attached to the work your employees perform. You do not want to come under the limelight due to negative public opinion for inadequate skills, training, and expertise to take on a project. Similarly, hiring clients will not prioritize companies with legal, security, and financial risks.
Contractor management services will ensure that you stay up to date with industry standards and maintain ethical operations by helping you identify gaps and providing you with the resources to fill them. This commitment resonates with stakeholders, including clients, partners, and investors, instilling confidence in the company's professionalism and dedication to quality. 
5. Maintain Your Prequalifications
Getting prequalified for future jobs and contracts is crucial to driving revenue, but it is dependent on meeting and maintaining compliance, which can be challenging for some.
This is where contractor management services providers (like us!) jump in and offer full-time management and monitoring of your contractor management platform account(s) at a part-time cost. Maintenance of your compliance status in contractor management platforms like *ISNetworld®, Avetta®, and Veriforce® showcases that you are a contractor committed to excellence, health, and safety systems to keep yourself and workers safe. 
6. Incredible Time and Cost Savings
Contractor management services can expedite the preparation and submission of prequalification documents, reducing the process from the typical 30 days to just 72 hours. This saves you over 650 hours and the massive opportunity cost attached. Typically, the prequalification process costs around $49,000, but with contractor management services, you pay a fraction of this amount to get the job done. 
Contractor Management Services to the Rescue
Contractor management services like ours can help you reach your best potential by assisting you in fulfilling safety regulations, legal requirements, industry standards, etc. Additionally, we can provide training materials to help meet the job requirements, manage accounts on multiple contractor management platforms, and do the paperwork for you. So, investing in us transcends adherence to rules; it's an investment in a company's longevity, reputation, and growth. 
If you are seeking contractor management services to streamline your prequalification process, look no further than Safety and Contractor Management Services. We're committed to helping our contractor clients navigate the industry safely and efficiently.
*Safety Services Company is an independently-owned company. Safety Services Company is in no way endorsed, sponsored, approved by, or otherwise affiliated with ISNetworld®, ISN®, RAVS®, T-RAVS™, and MSQ™ are trademarks or registered trademarks of ISN Software Corporation.