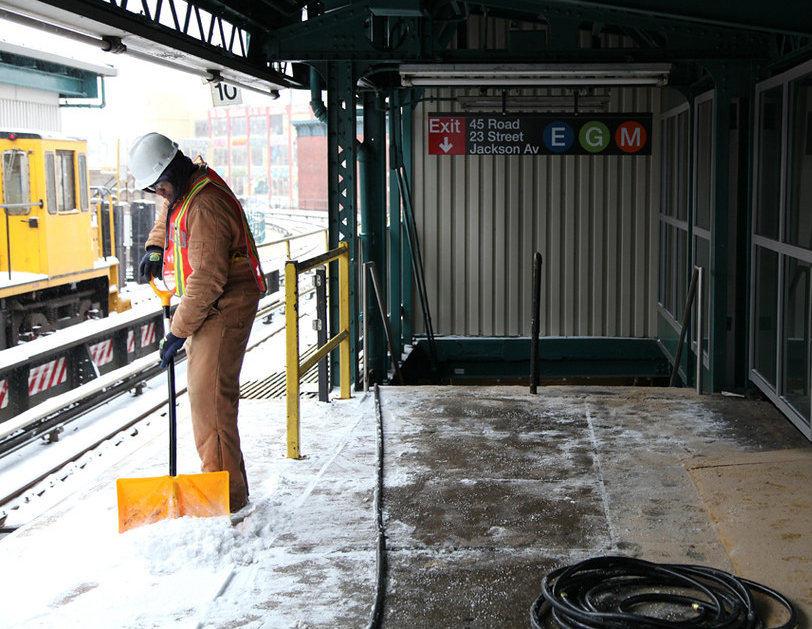 WINTER SLIP, TRIP, AND FALL PREVENTION
There's no denying that we're in the thick of winter. With the season comes activities people wait for all-year-round. Between ice skating, skiing, and just generally enjoying the snow, they are right when they say ⁠— it is the most wonderful time of the year.
Nevertheless, the change in temperature brings about workplace hazards that could injure your employees. Slips and falls during the wintertime are real concerns that, as a business owner, you should be well prepared for.
According to the Bureau of Labor Statistics, there are over 40,000 snow, ice, and sleet related workplace injuries every year. It's always best to be prepared. Below are compliance-tested principles you can follow as an employer to ensure the safety of your workers during winter.
PREPPING THE OFFICE
The office should be a safe haven for your employees. During the wintertime, it is your responsibility to keep operations in line.
DISCUSS PROCEDURES WITH MAINTENANCE EMPLOYEES
Your maintenance staff is your company's first line of defense when it comes to preventing slips and falls in the workplace.
Train your team on OSHA's snow and ice guidelines. Tell them how often you would like the snow cleared out, which areas they should focus on, and which employees are responsible for which tasks. It is important to delegate and assign zones. Create a checklist and ensure all the staff members have a copy. This way, while the entrances and high-traffic areas are a priority, all spots are taken cared of.
Consequently, if you outsource your maintenance team, it is as important to discuss your expectations with them. Their procedures might not exactly align with yours so it is best to get everybody on the same page. Request to see their checklist so you if it is ample or if it needs to be expanded.
REVIEW AND ADJUST
Improvements are almost always the result of past occurrences.
In order to ensure the same accidents don't happen again, review your yearly incident log and determine risky areas. This way you can develop specific procedures in spots where slips and falls happen more often. Because you know what to target, you won't waste resources on unnecessary efforts.
HAZARD INSPECTIONS
While there are high-risk areas in your workplace, slips and falls can happen at any time and in any place. Before outlining procedures and handing out checklists to your staff, it's important to go around your operations and identify spots that could potentially pose a slip and fall risk to your employees, such as:
Potholes and cracks that may be rendered invisible by a blanket of snow
Drain pipes and gutters that might get clogged with the inclement weather
Areas prone to the development of ice dams
Broken handrails and poor lighting that may cause slips and falls
Access to unauthorized walkways that are more prone to ice and snow hazards
HAVE YOUR SUPPLIES READY
To ensure that your maintenance staff can do their work efficiently, have ample supplies ready for them to use. Salt, shovels, plows, safety gear, barriers, hazard signs, and drying mats are just a few that you should put on your supply list.
Make sure to consult with your staff on what exactly they need. After all, as your front liners, they probably already have a running list of the tools they need to prevent slips and falls in your workplace.
PREPPING YOUR EMPLOYEES
Your workers play a big part in keeping the workplace safe for everyone. In order to keep everyone on the same page, below are a few tips to impart to your employees during winter.
MIND YOUR WALK
Walking seems like an innocuous thing to be wary of. However, the presence of snow and ice during winter makes the activity more tedious and unsafe. A little bit of ice coupled with distractions could mean the difference between arriving to point B safely versus going down with an injury.
It's crucial to train your employees how to walk. Make sure that when going from area to area that they keep their eyes forward and not towards their phones or other distractions. Short, slow steps are ideal and there is no shame in using handrails especially if you are unsure about your balance. Pay attention to the surfaces you are walking in. Injuries often occur when people aren't aware and aren't prepared for stepping into a new surface.
FOOTWEAR
Even during the wintertime, it is very tempting to dress to impress. However, with the sleet, ice, and snow, your heels have no business being in your workplace. Ensure that your employees are wearing shoes that are appropriate for the season. If they need to dress up and face clients, a change of appropriate footwear should be available after the meeting.
Your employees' safety against slips and falls must not come second to dress codes.
FREE UP YOUR HANDS
Carrying a heavy load in your arms can cause a problem with your balance. If your employees need to bring files or a laptop around, it is best to use a bag with a shoulder strap. It is also best to keep phones and tablets in your pockets instead of in your hands at all times. The less distraction that your workers have the safer they are.
REPORT, REPORT, REPORT
No matter how well you keep your ducks in a row, there are hazards that as an employer you aren't aware of. Advise your employees to be diligent about reporting slip and fall concerns in the workplace. Doing so will enable management to create specific safety guidelines for the area. Empowering everyone will create a safer workplace.
Winter is a beautiful season that is meant to be enjoyed in the office as much as it is at home. In order to fully enjoy the season, utilize these tips to ensure the safety of your employees.
Need help with creating a slip and fall free workplace? To learn more about how we can solve your company's OSHA safety training and compliance needs, check out our products and services here or call us at (866) 329-5407 today. Remember, your one call could save lives and improve your company's ROI.