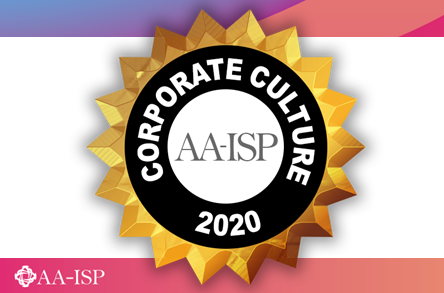 We're thrilled to announce that Safety Services Company was recently chosen as the winner of the 2020 AA-ISP Award for Corporate Culture!
Each year the AA-ISP honors individuals, organizations, and service providers at its Annual Leadership Summit for their outstanding contribution to Inside Sales. Award recipients are selected by the AA-ISP Awards Committee which is comprised of AA-ISP Executives and Advisory Board Members.
What makes this award so special is that it is based on nominations from employees.
"It's our honor to recognize Safety Services Company as this year's recipient of the AA-ISP Award for Corporate Culture. Safety Services Company has proven their dedication to helping advance the professionalism and performance of the inside sales industry, which is the mission of the AA-ISP," stated Bob Perkins, Founder and Chairman of AA-ISP. "Each year we look forward to thanking our recipients for their service to our growing profession and community of inside sales representatives, leaders and solution providers", stated Perkins.
We're extremely proud of the culture we've been built here at Safety Services Company and are grateful for this recognition from AA-ISP. We'd also like to extend our congratulations to all the award nominees, and winners – you guys rock!
For a complete list of award recipients, please visit https://www.aa-isp.org/annual-awards
All Aboard the Culture Train
As part of the virtual awards summit, VP of Business Development, Chad Angle, and his team of sales leaders were asked to submit a video message to officially accept the award. All aboard the culture train everyone!
Employee Nominations
To be considered for the award, AA-ISP asked that employees submit anonymous feedback about their experiences working at Safety Services Company. Here are a few of the submissions –
"Safety Services Company is a second-chance company that focuses on helping their employees learn and grow in a safe environment. Even more than that, SSC has been a family for me."
"Safety Services has helped me feel like I am part of a family. I feel like I am working with people who care about everyone in the company from the very top, to the very bottom. Suggestions are listened to and talked about."
"Safety Services Company is a great company to work for. Chad, specifically, puts a lot of time and investment into the employees and business to keep things moving forward. I have the opportunity to build a career because of it."
"I have been with Safety Services for about 10 years. I am so grateful. I love that we are a huge family. I have never met a group of people that really care, that's what human connection is all about. I love that we always work as a team to accomplish goals for our company, that helps us all in return. I love that we have respect and professionalism towards each other and our clients. I am thankful that we not only look out for each other, but for companies all around North America! We serve them with integrity and dignity as a sales company that could be hard to find, but to us it just comes naturally- It's who we are! We help companies make sure their employees get home safe every day. That is rewarding! I love the culture we have here at Safety Services Company, Human Connection, Respect and Dignity, Professionalism, integrity, and EXTRAORDINARY customer service!"
"Safety Services Company strives to give the best customer experience, the best product and the best employer / employee experience. One Team, One Purpose, full circle."
Learn more about our team, our culture, and opportunities to join us at https://www.safetyservicescompany.com/about-us/careers/
About AA-ISP
The AA-ISP, the global Inside Sales association and our industry's most trusted and respected resource for everything Inside Sales, is dedicated exclusively to advancing the profession of Inside Sales. The association engages in research studies, organizational benchmarking, and leadership roundtables to better understand and analyze the trends, challenges, and key components of the growth and development of the Inside Sales industry. Our mission is to help Inside Sales representatives and leaders to leverage our information and resources through published content, local community Chapters, global conferences, career development, and an Inside Sales Accreditation program.
For more information on AA-ISP, please visit www.aa-isp.org