Already the second most cited violation in 2013 with 6,156 instances, The General Industry Hazard Communication (1910.1200) standard, has only become more complicated with a December 1st, 2013 deadline requiring employers to train employees on the new label elements and safety data sheet (SDS) format.
To make it easy, employees need to know:
The type of information on the new labels
How to use the labels in the workplace
How the elements work together on a label
The format of the new Safety Data Sheets (SDS)
How the label information is related to the SDS
1. Label elements
Employees will see the following elements on the new labels.
Product Identifier – This can be the chemical name, code number or batch number.
Signal Word – Indicates the severity of the hazard. Within a hazard class "Danger" is for more severe hazards and "Warning" is for less severe. Regardless of how many hazards a chemical may have, if one warrants a "Danger" warning then it will be used on the label.
Pictogram – Know what hazards the following pictograms represent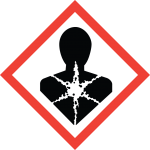 Health Hazard – carcinogen, mutagenicity, reproductive toxicity, respiratory sensitizer, target organ toxicity, aspiration toxicity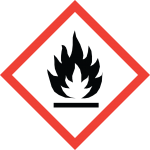 Flame – flammables, pyrophorics, self-heating, emits flammable gas, self-reactives, organic peroxides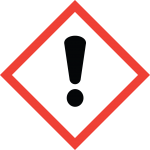 Exclamation Mark – irritant (skin and eye), skin sensitizer, acute toxicity (harmful), narcotic effects, respiratory tract irritant, hazardous to ozone layer (non-mandatory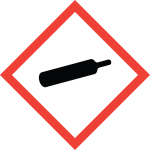 Gas Cylinder – gases under pressure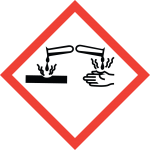 Corrosion – skin corrosion/burns, eye damage, corrosive to metal.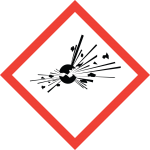 Exploding bomb – explosives, self-reactives, organic peroxides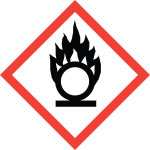 Flame Over Circle – oxidizers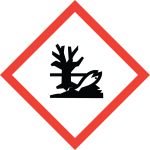 Environment – aquatic toxicity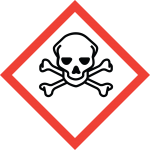 Skull and Crossbones – acute toxicity (fatal or toxic)
Hazard Statements – Describe the nature and degree of the hazard. All applicable hazard statements will appear on the label, specific to the hazard classification category and users will see the same statement for the same hazards regardless of the chemical or who produces it.
Precautionary Statement – Phrases describing recommended measures to minimize or prevent effects of exposure, improper storage or handling.
Supplier Information – Name, address and phone number of the chemical manufacturer, distributor, or importer.
2. Using the labels
The information on the labels will show employees the proper way to use and store the hazardous chemical, and how to quickly locate first aid information for emergency personnel.
3. How the elements work together
A chemical with multiple hazards will have all of the necessary pictograms for the corresponding hazard class. Also when there could be similar precautionary statements, the one providing the most information will be on the label.
4. Safety Data Sheets (SDS)
Material Safety Data Sheets (MSDS), which could be in hundreds of different formats depending on the whim of the manufacturer are out, and Safety Data Sheets (SDS) with a standardized 16-section format, are in.
By June 1, 2015, all SDSs will adhere to the following sections:
Identification – Product identifier; manufacturer or distributor name, address, phone number, emergency phone number; recommended use; restrictions on use.
Hazard Identification – All hazards regarding the chemical; required label elements.
Composition/Information on Ingredients – Information on chemical ingredients, trade secret claims.
First-Aid Measures – Important symptoms / effects, acute, delayed; required treatments.
Fire-Fighting Measures – Suitable extinguishing techniques, equipment; chemical hazards from fire.
Accidental Release Measures – Emergency procedures; protective equipment; proper methods of containment and cleanup.
Handling and Storage – Precautions for safe handling and storage, including incompatibilities.
Exposure Controls / Personal Protection – OSHA's Permissible Exposure Limits (PEL); Threshold Limit Values (TLV); appropriate engineering controls; personal protective equipment (PPE).
Physical and Chemical Properties – The chemical's characteristics.
Stability and Reactivity – Chemical stability and possibility of hazardous reactions.
Toxicological Information – Routes of exposure; related symptoms, acute and chronic effects; numerical measures of Toxicity.
Ecological Information – Environmental impact; organism toxicity results; environmental persistence; bioaccumulation potential. Not regulated or enforced by OSHA.
Disposal Considerations – Proper disposal, recycling, reclamation. Not regulated or enforced by OSHA.
Transport Information – UN number; UN proper shipping name; transport hazard classes; environmental hazard; bulk transportation; special precautions. Not regulated or enforced by OSHA.
Regulatory Information – Additional safety, health, and environmental regulations. Not regulated or enforced by OSHA.
Other Information – Date of preparation or last revision.
5. Label and SDS Similarities
Employees need to know how the label information is related to information on the SDS.
Precautionary statements are the same. The same product identifier is on the label and in Section 1 of the SDS (Identification).
Use a hazardous chemical in your workplace that employees may be exposed to and go over its label and SDS to find the similarities and what they mean to your workplace.
Hazardous Communication Training Kit
The Hazardous Communication Training Kit, available from Safety Services Company, provides detailed information on the new and existing requirements including: safety data sheets, policy creation, physical hazards, Global Harmonized System (GHS), chronic effects, spills, and leaks.
Top 10 OSHA Violations Examined
Check with us every Wednesday for the rest of the year as we understand the Top 10 OSHA Violations for 2013. Next week's topic is construction's scaffolding regulation (1926.451).
1. Fall Protection (1926.501) – October 23
2. Hazard Communication (1910.1200) – October 30
3. Scaffolding (1926.451) – November 6
4. Respiratory Protection (1910.134) – November 13
5. Electrical, Wiring (1910.305) – November 20
6. Powered Industrial Trucks (1910.178) – November 27
7. Ladders (1926.1053) – December 4
8. Lockout / Tagout (1910.147) – December 18
9. Electrical, General (1910.303) – January 8
10. Machine Guarding (1910.212) – January 15