The Safety Shortcut: Self Supporting Ladders
Author

Delete/Deactivated User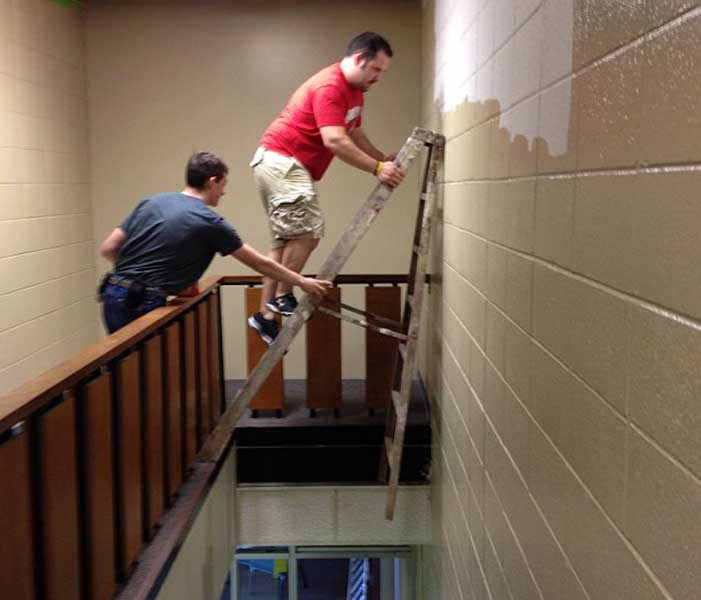 Self Supporting Ladder Safety
Because they are so versatile, ladders can be the most incorrectly used tool at a worksite. When working with a self supporting ladder on a regular basis, you can become very familiar with the tool and learn how to get really creative with using it to reach some tough locations.
I've seen people "walking" while on a ladder: torquing their body to lift up the legs one side at a time to take steps down the wall, essentially using the ladder as if they are on stilts, instead of climbing off the ladder and repositioning it properly. I've also seen ladders on top of scaffolds and people standing on the top step without holding onto anything to reach that one last spot.
And in this photograph, this man is definitely putting himself in harm's way by using the ladder incorrectly. But, because of what he may have gotten away with before, he may not understand the risks he's taking or exactly what he's doing wrong.
Ladders 1926.1053
First off OSHA states that ladders should only be used only in the ways they are designed — 1926.1053(b)(4) — and this self-supporting ladder is designed to have all four legs on the ground.
"The ability of a ladder to sustain the loads … shall be determined by applying or transmitting the requisite load to the ladder in a downward vertical direction" 1926.1053(a)(1)(i)
"Ladder rungs, cleats, and steps shall be parallel, level, and uniformly spaced when the ladder is in position for use." 1926.1053(a)(2)
And if you do correctly use a ladder on an unstable and level surface, then OSHA requires it to be properly secured to prevent accidental displacement. 1926.1053(b)(6)
Fall Protection 1926.501
Beyond incorrectly using the ladder, because the worker has more than a six-foot fall to the ground, he needs to be protected with some type of fall protection: a guardrail, safety net or personal fall arrest system. 1926.501(b)(1)
The Simplest Solution
Instead of climbing into a harness and trying to find a good way to anchor the lifeline in, or hoping that the ladder doesn't break from unusual stress, or one of the legs doesn't slip, I would just put the roller on an extension pole and stay safely behind the railing to easily reach that last bit of unpainted wall.
Call (888) 992-0380 today to speak with one of our safety solutions experts.
All Spotting Safety Articles:
Next Post: DISTRACTED DRIVING
Previous Post: Safety Training for Non-English Employers