Top Fines & OSHA Standards Part 2
Author

Stephanie McCauley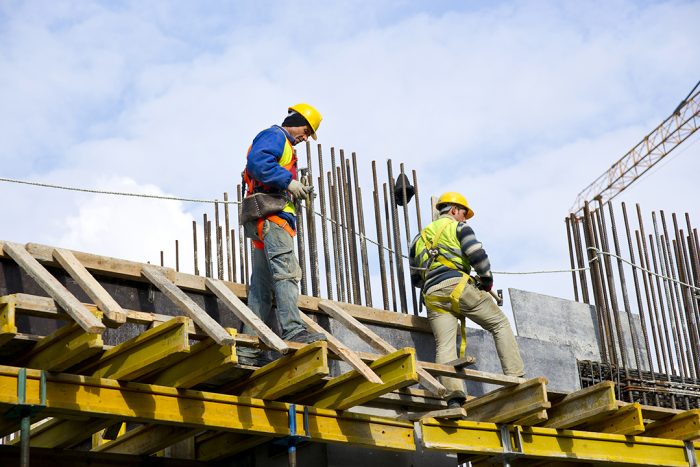 Fines & OSHA Standards
Welcome to Safe Friday, this week we're going continue to cover the ins and outs of Fines vs. OSHA Standards. Whether you're an experienced professional, or new on the job, today we're going to offer something for everyone! This week, we're going wrap-up the final 5 of the top 10 OSHA fines, and how you can avoid them.
#5: LADDERS
Number of Inspections: 1,783
Number of Citations: 2,362
Total Amount Fined: $1,245,494.00
Average Fine: $698.00
OSHA standards require specific ladder safety training. If you work with ladders, make sure you understand the hazards relating to ladder use. Make sure you understand the proper construction, appropriate selection, load limits, placement, care and other restrictions in ladder handling. Everyone needs to understand the OSHA standards, and be retrained as necessary, to maintain their understanding of safe ladder practices.
The main reasons people fall from ladders include:
Ladder failure from overloading or damage to the ladder
Slipping or losing your balance while climbing
Over-reaching while working on top of a ladder
Weather conditions that can affect safety when ladders are used outside
Slippery substances such as grease or oil on rungs
Improper set-up of a ladder that can cause it to shift
Unprotected ladders that are set up in doorways or high traffic zones
Falling objects when trying to carry tools or material up a ladder
Follow these guidelines and OSHA standards when working with ladders:
Always inspect a ladder for damage or defects before use. If the ladder is faulty or defective, tag the ladder and remove it from service. No tagged ladders can be used until repairs are made
Use only ladders meeting the length and load limit requirements for the job
Never use metal ladders near electrical lines, equipment, or switch gear. Don't use a metal ladder when performing electric arc welding
Always set up ladders on stable solid surfaces. Never place ladders on boxes, blocks or crates to extend your reach
Never stand on the 4 top rungs of a straight or extension ladder, or on the top 2 steps of a stepladder
Hoist tools and other material up after reaching the top of the ladder. Using tool belts helps to manage tools while working from a ladder
Never over-reach while working from a ladder. Climb down and re-position ladder as needed to stay close to work
Make sure rungs or steps on metal ladders are treated to prevent slipping. Treatment may include being corrugated, dimpled, knurled or coated with non-skid, slip-resistant material
Ladder side rails must extend 3 feet above the top landing. If this can't be done due to the ladder's length, then tie off the ladder at the top to a non-moveable support, and make sure grab rails are installed for access
Never tie different ladders together to make them longer unless they are designed for that purpose
Don't shift, reposition or extend a ladder while it's being used
When traveling up or down ladders, always observe safe ladder techniques:
Always face the ladder
Use a three-point climbing technique - with both feet and one hand, or both hands and one foot in contact with the ladder at all times
Never carry loads or objects that could cause you to lose your balance and fall
#4: AERIAL LIFTS
Number of Inspections: 1,259
Number of Citations: 1,432
Total Amount Fined: $1,210,054.00
Average Fine: $961.00
Per OSHA standards, all aerial lifts, cranes, derricks and hoists must meet the requirements for design, inspection, construction testing, maintenance and operation as prescribed by the ANSI safety codes. Your company must maintain a certification record that includes; dates of the items inspected, the signature of the inspector, and serial number of the equipment inspected. This record will be maintained on file until a new one is prepared (keep a copy with the equipment).
General aerial lift safety guidelines:
Attachments used with cranes must not exceed manufacturer's recommendations for capacity, rating or scope
Rated load capacities, operating speeds, and hazard warnings or instructions, must be posted on all equipment and visible from the operator's station
Hand signals used during cane operations will follow those prescribed by ANSI for cranes and derricks
Your company must designate a competent person to inspect equipment before each shift, and during use, to ensure the equipment is safe. Any defective equipment must be replaced or repaired before continued use
An annual inspection of hoisting machinery must be made by a person certified by the U.S. Dept. of Labor. A record of these inspections must be maintained by your company, and a copy kept with the equipment
Moving parts of equipment must be guarded to prevent workers from coming into contact with them
The swing radius of a cranes rear superstructure must be guarded to prevent workers from being struck or crushed
All windows must be made of safety glass and free of cracks, breaks or distortions
If access to the cab roof is necessary for rigging or service, a ladder must be provided
Guardrails, handholds, and steps must be provided on cranes for access to the car and cab
Platforms and walkways must have an anti-skid surface and be kept free of oil and grease
Fuel tank filler caps must be located or protected to prevent a spill or overflow from running into the engine compartment, exhaust or electrical systems. An operable fire extinguisher of at least 5BC rating must be kept at all operators' stations
Cranes must operate within regulated clearances when working near electrical transmission lines, unless the lines have been taken out of service and visibly grounded. Insulating barriers, if used, may not be attached to the equipment
No modifications or additions affecting crane capacity or safety may be made without the written permission of the manufacturer
All workers must be kept clear of loads about to be lifted or already suspended
If you are working on horizontal booms of hammerhead cranes, you must be protected from falls by guardrails or fall arrest gear
Buffers must located at both ends of travel, on the trolley of bridge or overhead trolley hoists
Cranes mounted on tracks must have limiting switches and buffers at each end of the track
Overhead and gantry cranes must have load limits clearly marked on both sides and legible from the ground
Floating cranes, derricks, and mobile cranes mounted on barges must have a revised load-rating chart if load ratings are reduced by the limits of the vessel. Mobile cranes on barges must be secured
Your company must comply with the requirements for protecting workers working onboard marine vessels
#3: FALL PROTECTION
Number of Inspections: 4,667
Number of Citations: 5,148
Total Amount Fined: $5,417,592.00
Average Fine: $1,160.00
To follow OSHA standards, when working at heights, protect yourself against falls by using the appropriate fall protection equipment. Make sure that a proper guardrail system is in place. Never latch your lanyard to railings, always clip your lifeline onto the proper anchoring system.
Personal Fall Arrest Systems (PFAS) connections must be forged formed steel or equivalent material with a minimum tensile strength of 5000 lbs.
Always inspect your PFA before each use and after any fall for wear, damage, deterioration or defects
Body belts can't be used as part of a personal fall arrest system
Lanyards, lifelines, webbing and strength components must be made of synthetic fiber and have a minimum breaking strength of 5000 lbs.
Anchorages used for attaching PFAS must be able to support at least 5000 lbs. per person attached
When stopping a fall, PFAS can't apply more than 1,800 lbs. of arresting force to your body, be rigged so that you can't free fall more than 6 ft, contact any lower level and bring an employee to a complete stop
Positioning Device Systems (PDS) can use body belts and must be rigged so that you can't fall more than 2 ft. Inspect your PDS before each use and remove any defective components from use. PDS anchorage point must support at least 3000 lbs.
Guard Rail Systems must meet the following: requirements:
The top rail must be between 39 and 45 inches above the working/walking level
Mid-rails, screens, mesh, or intermediate structural members must be installed between the top edge of the guardrail and the floor if there's no wall that's at least 21 inches high
Mid-rails must be halfway between the top rail and floor
Screens and mesh must cover the entire opening between the top rail and floor
Intermediate members must be no more than 19 inches apart
Guardrail system surfaces must be smooth to prevent puncture or laceration injuries and the snagging of clothes
When guard rails are used around a hole, they must be placed on all unprotected sides of the hole and can't have more than 2 removable sides for passing material
Guardrail systems used on ramps and runways must be installed along each unprotected side
Safety Net Systems must comply with the following:
Safety nets will be installed as close as possible under a walking/working surface, and never more than 30 ft below the surface. When used on bridges, the area between the walking/working surface and net must be unobstructed
Safety nets must have at least 42 inches of clearance under them to prevent contact with lower structures
Safety nets and installations must be drop tested after installation, before being used as a fall protection system, whenever relocated, repaired, or at 6-month intervals if left in place
Safety nets must be inspected at least once a week for wear, damage, and other deterioration
Materials, scraps, equipment and tools that fall into the safety net must be removed as soon as possible
Safety nets must have a border rope or webbing with a minimum 5000 lbs. breaking strength
Connections between nets must be at least as strong as the net and not more than 6 inches apart
#2: SPECIFIC EXCAVATION REQUIREMENTS
Number of Inspections: 770
Number of Citations: 1,362
Total Amount Fined: $1,625,293.00
Average Fine: $2,110.00
In order to meet OSHA standards, stop operations and evacuate the excavation if any hazard is suspected or identified. Report any hazards immediately, and don't resume work until the problem is resolved. Don't take chances in trenches.
Death by suffocation or crushing: These incidents occur when excavations collapse. Proper sloping, benching or support systems of trench walls will prevent cave-ins. All of these systems must be designed by a competent person or qualified engineer. In addition, follow these guidelines to stay safe:
Make sure all material and equipment used to prevent cave-ins are installed and used according to the manufacturer's recommendations
Inspect shoring systems regularly, and report any damaged or defective equipment immediately
Watch for any flaking of trench walls or bulges in shoring or shields that could indicate a potential for cave-in
If weakness in any part of a support system is suspected, evacuate the trench immediately, don't re-enter the excavation until problem is corrected by a competent person
Don't climb or step on any part of a support system
Always remove support systems one member at a time, beginning with the lowest components and moving upward. Backfill the excavation immediately after removing the support system
Material, equipment or tools falling into the trench: Always keep spoil at least 2 feet or a distance equal to the height of the pile back from the trench. Have equipment operators rake loose material from trench walls, slopes and benches as they dig. Put up safety barricades or barriers along the trench edges as the excavation progresses. Have equipment operators place boulders and large material removed from the excavation to the outside of piles, away from the trench. Never work underneath loads handled by digging or lifting equipment, and stand clear of loading operations. If an equipment operator can't see workers in the trench, use a spotter when loading or unloading material from the trench. Don't work on slopes or benches above another worker. Don't place tools or equipment on the edge of the trench.
Personnel falling into the trench: Keep your hands free for climbing when using ladders to get in or out of a trench, don't hand carry tools or equipment on ladders. Use walkways to cross trenches; never try to jump from one side of the trench to the other. Keep areas on trench edges free of trip hazards. Always approach the edge of a trench carefully. Always wear the necessary PPE around excavation operations. Make sure there are ladders nearby for entering and exiting the excavation.
Working too close together in trenches: Working too closely to co-workers can create hazards of being struck by someone else's tool or being caught in the same incident. Always keep enough space between one other to work safely.
Hazardous atmospheres: Toxic or flammable gases or low oxygen atmospheres can be encountered in deep trenches. If either are encountered or are suspected, the atmosphere must be tested before anyone enters the excavation. If fuel-burning equipment is used in or around trenches, make sure the exhaust fumes are not being inhaled by workers in the trench.
Tools or equipment striking underground utilities and power sources: Utilities must be located and marked before excavation begins. When trenches approach the approximate location of underground utilities, the exact location must be determined by hand digging. When exposing utilities, use extreme caution; hand tools such as picks and shovels can easily puncture electrical cables or rupture gas lines. While an excavation is open, utilities that have been exposed must be protected, supported or removed as necessary to protect workers.
#1: GENERAL REQUIREMENTS
Number of Inspections: 3,025
Number of Citations: 8,147
Total Amount Fined: $6,601,703.00
Average Fine: $2,182.00
Statistics published by the Department of Labor report that there are around 93 million workers in more than 6 million workplaces in America. During a typical year in the United States, more than 4,500 workers are killed on the job, and approximately 3 million are injured, and many others die from work related illnesses. Aside from all the human suffering, workplace injuries cost the U. S. economy billions of dollars each year.
Complying with OSHA Standards is the law; however, compliance with these standards alone won't prevent all injuries and illnesses. In fact, OSHA standards define the minimum acceptable levels of protection. In order to prevent injuries and illnesses in the workplace, companies are responsible for providing the necessary training and support, so workers know what the OSHA standards are and how to recognize and avoid hazards. It's also one's own responsibility to learn and practice safety requirements and put their training to use on a daily basis. Keep this information in mind and do your part to keep your workplace safe.
CONCLUSION
Grand total there were 12,434 Inspections performed by OSHA, with 39,427 Citations given. OSHA fined a whopping grand total of $29,254,984.00 to Construction Companies and Contractors with LESS THAN 10 EMPLOYEES. That's an average of $2,352.00 Per OSHA Fine Per Inspection.
Your company should be thoroughly covered with a written safety program whether you have 1 employee or 1,000 employees. The emphasis on safety in the culture of your business can help you avoid these fines.
➩We have complete OSHA standards and compliance solutions for all your needs. Call (877) 640-6571 today to speak with one of our highly skilled safety experts.
Please join us next Friday for more OSHA standards and compliance tips!
Next Post: Browz Contractor Management
Previous Post: Top Fines & OSHA Regulations Part 1