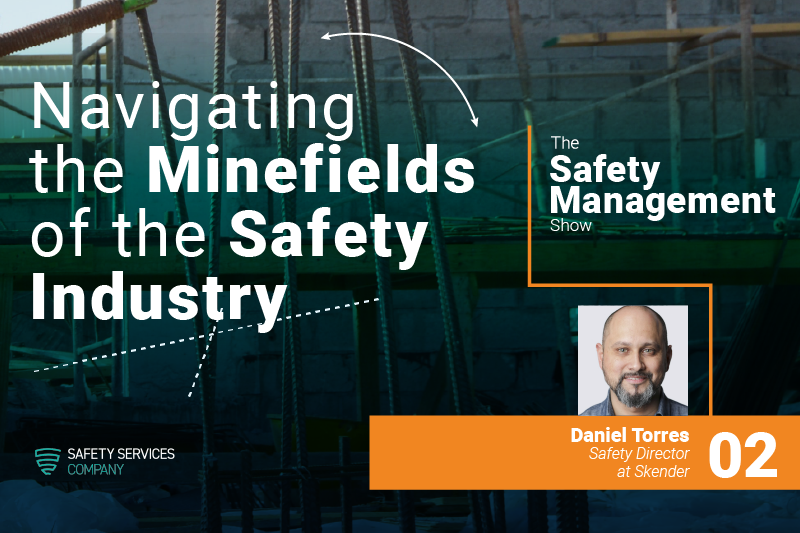 _____________
Seeing a Work Site Through an Injury
When you sign up for a career in the safety industry, you inadvertently agree to a couple of things.
You may always be seen as "the safety person" there to ruin productivity.
And you may be signing up to witness firsthand, or at least be present in the aftermath, some sort of workplace incident, maybe involving injury or worse.
On this episode of The Safety Management Show, we talk with Daniel Torres. Daniel is the safety director at Skender, one of the top construction firms in the United States, and has literally seen it all, the good, the bad, and the ugly. 
Daniel talked with us all about:
Utilizing technology to help make safety a priority
Making sure everybody in your organization is prepared for every possible scenario
Responding to and recovering from a workplace incident that results in injury
Don't Take Safety Personally: Make it Personal
How many times have you been on a worksite, and the safety manager shows up. Or someone from OSHA shows up to the site.
If you're honest, what is your immediate attitude and feeling towards that person?
"They're here to make it harder for us to do our job."
But stop and put yourself in the shoes of the safety director. They're doing a job, and at the end of the day, their job is to help you succeed. Their job is to show up, make sure that things are operating correctly, and that everybody on the site is as safe as possible while getting the job done.
And if something were to happen, their job is to ask what went wrong, and how they're going to fix it so that it doesn't happen again. To ingrain continuous improvement into the mindset of the work.
As Daniel likes to say, "Before I point the finger, I point the thumb."
Meaning, the minute the gate is open, the people on that worksite are his responsibility. And so he's going to do everything he can to keep them safe.
"Don't take safety personally. Make it personal."

– Daniel Torres
Technology & Safety
A worksite is a complicated place.
So Daniel and his team have started using technology, specifically some of the best project management software on the market, to keep all the reporting, check-ins, trends, and site visits all in one place.
When there inevitably is an incident, no matter how big or small, he's able to lay out the incident reports and start looking at the data, analyzing all of the trends that may have led to that incident.
"Because that's how we build our program. It's a collaboration. I believe wholeheartedly in collaboration."

– Daniel Torres
The more you're tracking, the better you're able to pinpoint the things that you need to work on. To dissect what's happening on your project. You only have so much time in the day, so why not spend it on what's important?
Navigating an Injury
Unfortunately, a worksite is a dangerous place. There are a lot of opportunities for things to go wrong, and despite all the hard work of all the safety professionals, accidents happen.
"You want to get into safety? It's very important, you have to be prepared for the worst, unfortunately."

– Daniel Torres
So what do you need to know when responding to one?
Start small.
Some states have safety training centers where professionals can help train you and your team on avoiding injuries in any area of your industry.
Partner with your vendors and contractors, whether they're sub contractors or general contractors. Networking with the people around you is crucial in helping people respond if and when an injury does take place on the worksite.
A workplace injury can be traumatic — both for the person injured, as well as the individuals involved. Whether it's people who witnessed the incident, or the site manager who has to coordinate all of the OSHA investigations.
Do everything you can to make that process a little less traumatic for everyone involved.
_____________
Have any guest or topic ideas? Reach out to marketing@safetyservicescompany.com.
Hear more stories from safety professionals by subscribing in Apple Podcasts, Spotify, or wherever you listen to podcasts.
Listening on a desktop & can't see the links? Just search for The Safety Management Show in your favorite podcast player.