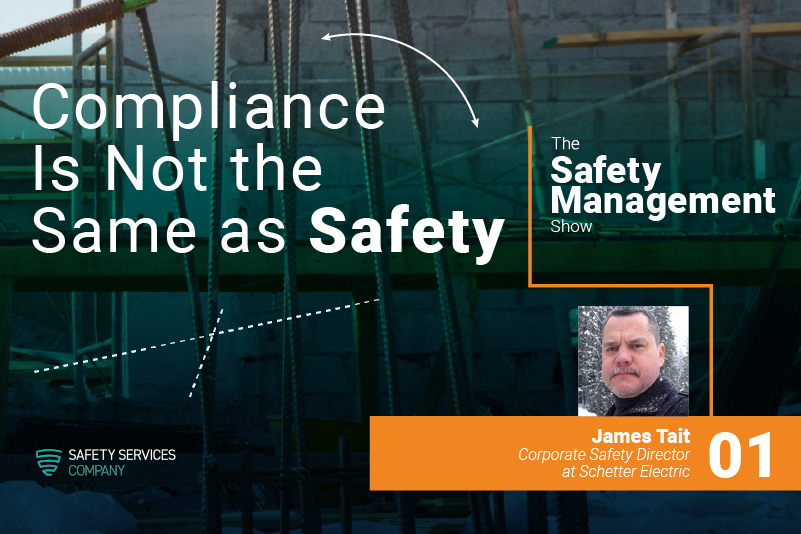 _____________
Tales from an Electric Safety Director
When you work as a safety professional, one of the more frustrating attitudes you run into is that people confuse compliance with safety.
Compliance is not synonymous with safety.
Just ask James Tait, who, in his role as Corporate Safety Director at Schetter Electric, runs into this attitude — and helps guide others past it — every day.
James joins us as our first guest to discuss:
The difference between safety and compliance
What he's learned interacting with OSHA
How gamification can improve safety and make it fun at the same time
Compliance vs. safety
The attitude that compliance is the primary motivation for safety procedures is widespread — and, to be honest, it's understandable. Nobody wants to get on the wrong side of the government (or be scolded by their company lawyers).
This misses the real point of safety: to protect your employees' long-term health and wellness, avoid unnecessary risks, and make sure everyone can go home to their families in one piece.
"People really focus on the compliance side, but you still have to think about the boots on the ground."

– James Tait
Intuitively, most people understand this. But when you focus on compliance first, you may overlook important components of safety just because they aren't legally mandated.
In order to combat this attitude by helping workers prioritize safety, James has learned over the years to gently nudge toward safer behaviors, rather than aggressively chastise. This is especially true of the older workers who are set in their ways.
What to know about OSHA
Of course, this is not to say compliance doesn't matter. You want to make sure your safety procedures are up to snuff in case OSHA comes, right?
Well, lots of people worry about OSHA, which is understandable since they enforce the safety standards on your job.
But OSHA doesn't need to be feared, so long as you follow James' top two tips:
1. Document everything
In the event of an accident or safety concern on the job, documenting the steps you are taking is invaluable to your case. So long as you can prove you've been allocating the time and resources to safety and training, OSHA will take all of it into consideration.
"The biggest thing is trying to keep everyone healthy over time, not just on that day or job. If you put yourself at risk, you are also putting your family at risk."

– James Tait
2. Work with OSHA
One thing James says many people don't know is that the consultative side of the organization is separate from the enforcement side. So, before you get paranoid that asking for help will result in punishment for the things you are trying to get right, realize that OSHA exists to help maintain safety first and foremost.
Safety can be fun and rewarding
One of the ways James has learned to help promote safety on the job is by implementing technology to get metrics on safety.
Obviously, it's useful to have metrics on your safety efforts to make sure they are working. But there is another component to these measurements that can help inculcate an attitude of safety first and not just compliance: gamification.
"Find somebody that you can mentor. Help them get through."

– James Tait
James points to the drivers who have video monitoring and driving scorecards that grade the safety of their driving.
The measurements lead to competition between drivers for who has the better scores, or even for individual drivers to break their personal best.
This makes the continual improvement in safety easier to attain, but also a whole lot more fun.
Compliance isn't the same as safety, but that doesn't mean that safety can't be fun.
_____________
Have any guest or topic ideas? Reach out to marketing@safetyservicescompany.com.
Hear more stories from safety professionals by subscribing in Apple Podcasts, Spotify, or wherever you listen to podcasts.
Listening on a desktop & can't see the links? Just search for The Safety Management Show in your favorite podcast player.